Hello ! And welcome to the first installment of "From the CRACK DEN" – where we put the pint-sized Theo Fluery under the microscope – and analyze ( actually – we OVER analyze) the latest and greatest antics of the Boy Wonder from Canada – CrackHead Theo (CHT).
Well, Where do we begin ?
Certainly – our subject matter provides us with DAILY contents of material for us to sort through – analyze and over analyze.
Certainly – Canada is playing Finland in Round One instead of the much tougher Russian team ( in single elimination play) courtesy of some terrific play by CHT.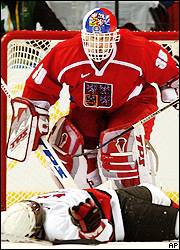 Hasek has some words with CHT while lying on the ice.
THE CRACK DEN monitored CHT closely in this game. CHT made some good plays – had a shot on goal that was THWARTED by Hasek….an undetected ( or overlooked) second period slash on Dopita —-a Body Check thrown by CHT at 12:03 of the second was a useful play —- CHT also had his jock strap handed to him by # 68 of the Czech team (forgot his name) and then there was the incident towards the end of the game – where a collision placed CHT atop Dominik Hasek…..and CHT decided to treat Hasek like a LOUNGE CHAIR – very upsetting to the Czech team – which was in the process of NOT WINNING this game – and being relegated to face the great Bulin Wall and outstanding players such as Federov, Gonchar and Kvasha.
Hasek tried to retaliate against CHT – but was unable to do so – as he had a net to tend. However, CHT's crosstown ENEMY – Roman Hamrlik gave CHT a Two Hander to remember. CHT will be nominated in the upcoming Oscars for the "CRACKHEAD FLOP"…..which did NOT draw a penalty to Hamrlik. CHT lied immobilized – like a dead World Leader- lying in state in the rotunda of the US Capitol building – where the seconds seemed like HOURS To him……..alas CHT, the REFS did NOT BUY IT. CHT was screaming " HOW UNFAIR !!" – but to no avail.
That said – if not for CHT – the Canadian people would be BESIDES THEMSELVES over the EMBARRASSMENT of losing to the Czechs. ( actually – truth be told – there is no shame in losing to the Czechs….just try telling that to the Canadians)
He made a GREAT PASS to Joe Niewendyk which had to go over the stick of a defender – where Niewy was able to shoot it past Hasek. This tied the game at 3 – and a nation sighed in relief as they will play Finland instead of Mother Russia.
The NBC telecast of the game also featured one of CHT's "enablers" – Mr. John Davidson. Davidson was suggesting that CHT has an injured ankle or knee – served up just in case Canada were to lose – to deflect criticism away from CHT. Typical Ranger move – to have your excused PREPARED IN ADVANCE of the LOSING.
So far – CHT is having a good Olympics. Certainly – there are far less distractions – or methods to stray from the "Straight and Narrow" path of goodness —- for CHT in Salt Lake. For one – there are a lack of Mascots to punch out. The 15 second rule – to change lines prior to a faceoff – prevents CHT from having the time to yap at opponents and to steal hockey sticks to break on the bench. The "Prozac Lady" from Dallas does not have tix at Salt Lake. There is less opportunity for CHT to get in trouble. With all the GREAT players that Canada has – CHT will not log 20 + mins. of ice time……again – less trouble. Read in the papers that Team Canada was NOT HAPPY that CHT was the VERY FIRST player on Team Canada who was tested for DRUGS……HOW UNFAIR !! How could they single CHT out?
How could they not?
All in all – CHT got to have a "mini scandal" – and – played well too. We will monitor CHT's game tomorrow vs. the Finns. Which Finn will get the errant ELBOW – or the SLASH DU JOUR from CHT? This is a big topic in Helsinki tonight…….We will monitor this very closely…..as CHT does his best to outshine Mike Tyson in the "bad boy" column AGAIN!
FROM THE CRACK DEN ! Will return tomorrow !