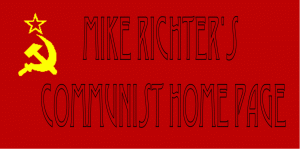 Here is the  article that started it all.  This article married to the fact that he
sucked in goal for team usa during the olympics, has led cht.com to believe that
anything other than m.r. being a commie bastard, is just downright unfeasible.
THIS REPORT JUST IN>>>>

Mike Richter DID attend the University of Wisconsin in Madison. Mad- Town is a famous lefty hangout. Radicals even blew up the
mathematics building during the Viet Nam War. And the Badgers wear Commie Red.

Donna Shalala used to be the chancellor, for crying out loud.

It all fits.

Kevin
Milwaukee, WI
(formerly of Patchogue)
Thursday, September 20, 2001
Richter sickened by Bush's remark
By TERRY KOSHAN — Toronto Sun
Mike Richter is not impressed with U.S. President George Bush.
The New York Rangers goaltender said he is "sickened" by Bush's
recent declaration that he wants terrorist Osama bin Laden "dead or
alive." Bin Laden is the main suspect in last week's horrifying
attacks in New York and Washington.
"I think that (Bush's remark) was entirely inappropriate," Richter, a
native of Abington, Pa., told Newsday. "I think it was sickening,
actually. This is no cowboy movie. This is not something to be glib
about. It scares me."
Richter and teammate Brian Leetch have a friend, John Murray, who
still is missing in what is left of the World Trade Center. Richter
was one of many Rangers who visited the site and talked to rescue
workers.
Richter hopes Bush uses common sense when the decision is made to go
after the terrorists responsible for the attack.
"Do something constructive about it," Richter said. "It doesn't
mean  just mobilizing troops and dropping bombs. Maybe there are some
solutions to the problem that don't involve bombing other innocent
people, you know? It's easy to dismiss bin Laden as evil and a
madman. But killing him doesn't end the situation. This is an idea
we're fighting.
"We have bombed them in the past. We have tread upon their holy land.
Maybe it's something we don't believe in, but why are our beliefs
more important than theirs?"
Email us to join the M.R. $ocialist Party.

Election results to be posted in November.
Just click here for more information.